Kai Kennedy, PT, DPT, our esteemed Associate Professor and Vice Chair for Equity, delivered a stimulating lecture as part of the Sumner and Hermine Marshall Endowed Last Lecture. Dr. Kennedy, who is also the Faculty Lead of Leadership Development for the Atlantic Fellows for Equity in Brain Health Program at the Global Brain Health Institute, was chosen by hundreds of students to give the lecture on April 12.
The lecture's prompt was "If you had only one lecture to give, what would you say?" During this interprofessional event, Kennedy shared stories that intertwined various aspects of her professional, personal, spiritual, and cultural experiences to an in-person crowd at Genentech Hall Auditorium at Mission Bay, and many others joined via livestream.
In her lecture, Kennedy drove home the power of narrative. "A few months ago, I was teaching a lesson on the use of public narrative as a health advocacy skill," Kennedy said. "I wanted my students to understand that their stories hold power and that storytelling is a skill that can be developed right alongside their clinical skills to help move us toward a healthier world." In her multi-media production, Kennedy incorporated themes of place, family, and community using music, poetry and prose from science fiction author Octavia E. Butler, and photography from her own family archive.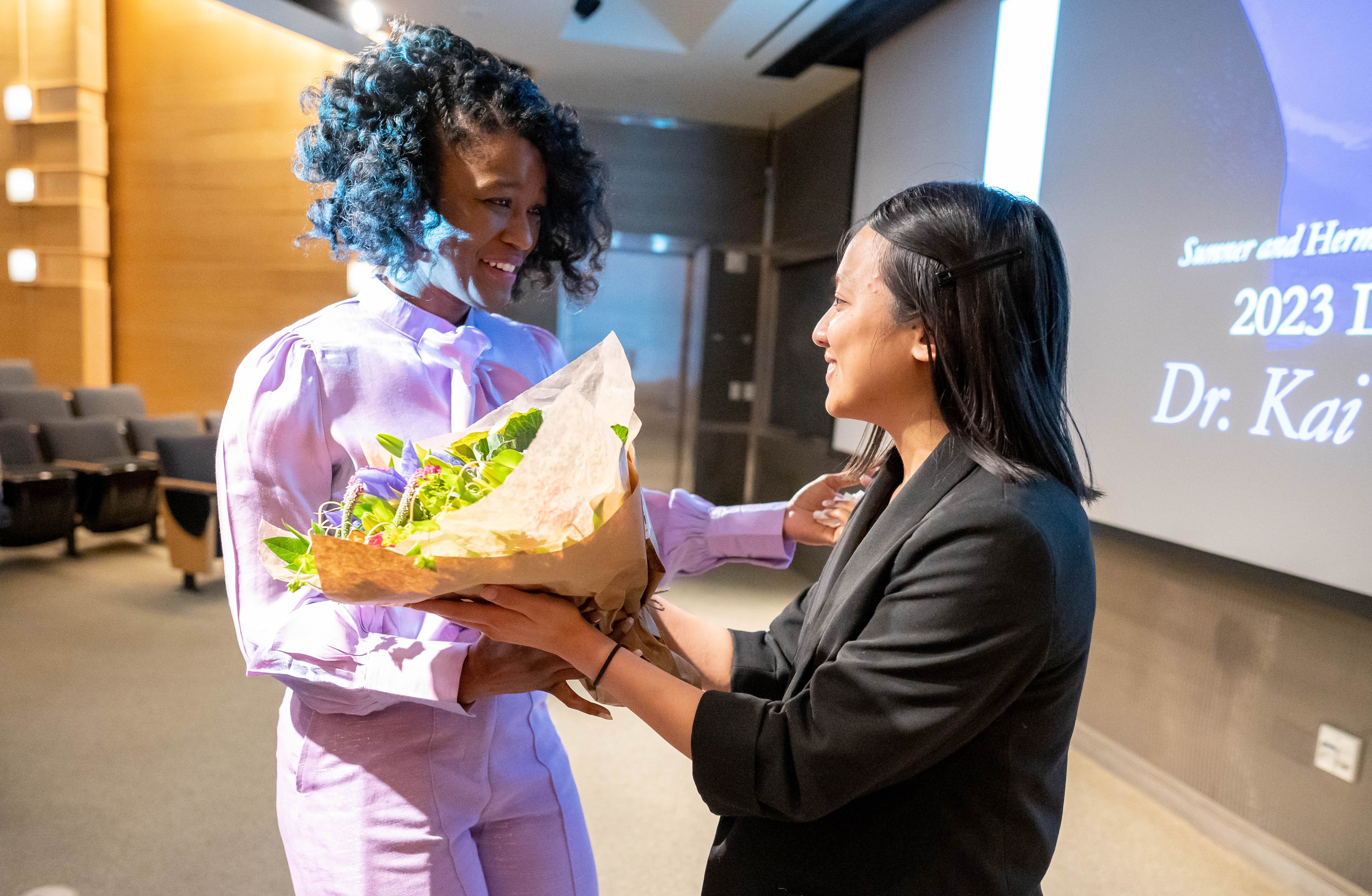 She shared stories of her grandmothers who inspired Kennedy's own career path and commitment to education, leadership and health equity. "They were God-fearing women, keepers of their village, self-determined people who blazed trails through thorny thickets, trod stony roads over red clay to far away places creating new realities for themselves, their families and their communities." Kennedy noted that by pursuing advanced academic studies and obtaining master's degrees both of her grandmothers achieved a rare feat for Black women born in America in the 1920s and 1930s.
Kennedy also spoke publicly about the death of her father for the first time during her Last Lecture. During her final year of physical therapy school while she was away on clinical rotations, her father had called her a few nights after Thanksgiving to catch up about the feast, the gathering, and about how school was going. "Then Daddy told me he hadn't slept well the night before, that he had woken up in a sweat, that he felt his breathing was unsteady. He didn't feel pain, but he didn't feel right." Kennedy told her father to go the doctor right away. He went to the doctor first thing Monday and the doctor sent him home. He died of a heart attack Tuesday morning at the age of 53. This personal tragedy re-centered Kennedy's work on health equity, and she embarked on a career she hoped would better meet the health needs of all members of society.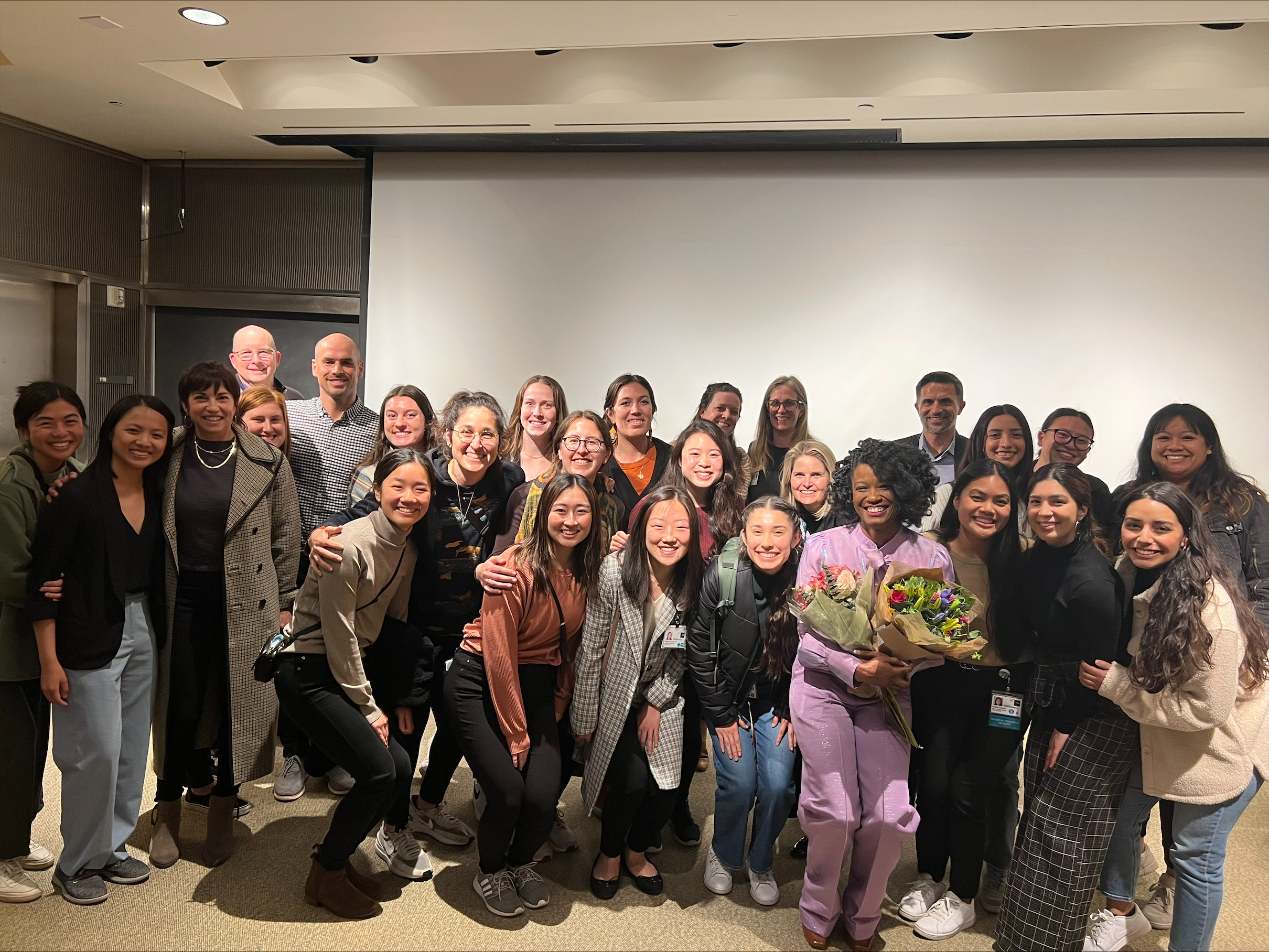 She shared lessons learned from her experiences running an outpatient physical therapy clinic, providing health promotion opportunities, and mentoring aspiring clinicians in her home town. She discussed how she evolved her career to help build a health care workforce with an increased capacity to address disparities. "I began to look for roles that would allow me to focus on the paradox of working in a health service system that didn't serve so many of my people," Kennedy said.
Kennedy visited Ghana for the first time in 2011 and said she felt welcomed home, particularly by a community of artist-activists. She returned many times and co-produced what has become one of the biggest alternative art and music festivals in West Africa. In doing so, she found new approaches to collaboration, change-making and leadership. She used those lessons to collaborate with partners to expand access to rehabilitative care in Ghana, and later in Haiti as well.
During her first academic appointment as the Director of Clinical Education for the developing Doctor of Physical Therapy Program at Mary Baldwin University in Staunton, Va, she refined her approach to community engagement, met with local clinicians and learned about their challenges, their patients' perceived barriers to care, and the difficulties recruiting clinicians to rural areas. "We built curricula in physical therapy, occupational therapy, nursing and physician assistant studies using an interprofessional approach to meeting community-identified need."
​My teachers are all around me, and your teachers are all around you too. Look for them, learn from them, and thank them.
Kai Kennedy, PT, DPT, Vice Chair for Equity, Associate Clinical Professor
UCSF Department of Physical Therapy and Rehabilitation Science
Later, Kennedy joined the faculty at Duke University as the Director of Community and Global outreach, a job she refers to as a "unicorn" of a position since because of the rarity of physical therapy programs with dedicated faculty positions for community and global work. "During these years I was integrated into a fascinating choreography between representatives of powerful global health entities, eager academic partners, and communities of human beings around the world." At the time health professions education programs were just starting to talk about the social determinants of health, but were not addressing the root causes of the issues.
After moving to the Bay Area to take on her new role, Kennedy has sought out community outside of work and yielded some of her Last Lecture time to share stories from Bay Area natives, including a physical therapist and Baptist minister, a community health educator from Oakland, and a community organizer from Bayview-Hunter's Point. "My teachers are all around me, and your teachers are all around you too," Kennedy said. "Look for them, learn from them, and thank them."