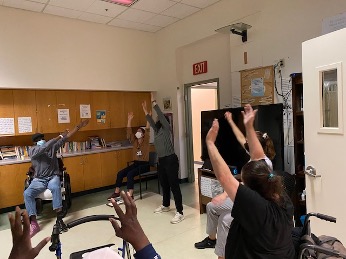 Students in the UCSF/SFSU Graduate Program in Physical Therapy are engaged with three community partnerships serving marginalized populations in San Francisco.
At the Mabuhay Health Center, serving the Filipino American community in the SOMA district, UCSF/SFSU students provide interdisciplinary care through a teleclinic and participate in a monthly health education/screening event. At Clínica Martín-Baró, serving the Latinx community in the Mission district, students provide interdisciplinary care through a bimonthly clinic in addition to health and wellness education during bimonthly food distributions. At the San Francisco Medical Respite Center, serving recently discharged people who are medically frail and impacted by homelessness, students provide monthly exercise instruction and mobility training.
DPT students serve patients through one of our community partners between four and five times a month. Since the establishment of these partnerships, student physical therapists have participated in 21 telehealth clinics and 13 health education/screening activities, while interacting  with over 200 colleagues from different disciplines and providing care for 119 patients who would not otherwise have access to physical therapy.
Student governance in 2022 included members of all three DPT cohorts: Sophie Baghodoyan, Fernando Cazares, Elizabeth Holt, JC Lynne LuSing, Jocelyn Morales, Jillian Rodriguez, MariaJose Solis Lopez, Cynthia Tze, Pam Ygrubay, Stacey Zupan, and Matt Villaneuva. Jenny Tam, Charlene Me-Robles and Ana Ceja also participated in outreach activities.