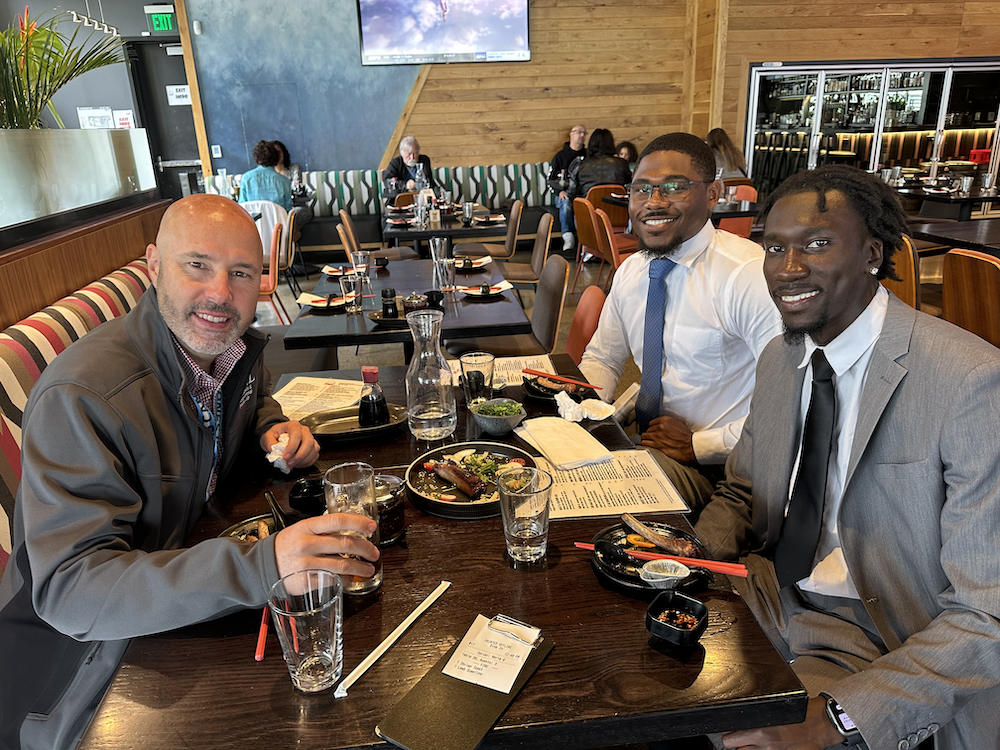 Two recent graduates from Morehouse College, a historically Black men's college, interned over the summer with the UCSF Department of Physical Therapy and Rehabilitation Science as part of the inaugural UCSF-Morehouse College Summer Training for Scientific Careers in Rehabilitation Science Program. The goal is to provide students from Morehouse College with research experience in Rehabilitation Science and provide a pathway for enrollment into our rehabilitation science PhD program, the professional DPT program, or other similar programs across the country.
The internship, which is funded by the UCSF School of Medicine Dean's Office and a collaboration with UCSF's Summer Research Training Program, was selected in July 2023 for additional funding by the University of California (UC) - Historically Black Colleges and Universities (HBCUs) Initiative, which seeks to improve diversity and strengthen UC graduate programs by investing in relationships with HBCUs.
Both 2023 interns graduated this year with degrees in kinesiology. Darius Ragland applied for the program because he's interested in becoming a physical therapist or working in sports medicine. "It was a great opportunity to get some hands-on experience and separate myself from other applicants in PT," he said.
Ragland interned in the lab of DPTRS Professor and Vice Chair for Research Richard Souza, PT, PhD, conducting research on Patellofemoral (PFJ) osteoarthritis. Using motion capture software and force plates, he helped acquire data at the Human Performance Center. He used visual 3D software to process the data and better understand how pain and cartilage lesions affect joints contribution strategies to the total work done during a sit-to-stand task. "Physical therapy is my main plan, but this experience has made me lean more toward research than I thought I would," Ragland said. "I can now see myself doing research."
While living in San Francisco was an adjustment – in particular, the summer weather – Ragland said he's happy he had the experience and highly recommends it for others.
Rodney Gross, who is preparing to apply for Doctor of Physical Therapy programs, learned about the internship through two professors at Morehouse College. Gross interned in Associate Professor Victor Cheuy, PhD's lab, studying Diabetic Neuropathy and Chronic Kidney Disease. His research focused on how disease affects how people walk, the bony structure of the foot, and the likelihood of amputation.
Initially, coming to UCSF was a bit of a culture shock after attending a predominately Black institution. "I had to find people in my program to really connect with on that level," Gross said, and he was glad his program coordinator introduced him to the Black excellence in STEM organization. While at UCSF Gross connected with physical therapists, shadowed at the community clinic at Mission Bay, observed physical therapy lectures, and shadowed the anatomy lab.
"From my experience UCSF has endless opportunities," Gross said. He originally didn't plan on applying to any schools on the west coast, but he is now applying to the UCSF/SFSU DPT program.
Black learners are extremely under-represented in UC graduate and professional programs. The five-year average (2017–2021) for enrollment of African Americans in UC academic doctoral programs is 4 percent. The physical therapy and rehabilitation workforce also has a shortfall of Black professionals. Although 5% of the state's population identifies as Black, only 2.5% of the physical therapy workforce does so. The scarcity of racially and ethnically diverse physical therapists increases disparities in utilization of rehabilitative care and health outcomes.
Pathway programs and culturally effective mentorship and advising initiatives are key to diversifying the health care workforce, according to a growing body of evidence and recent report by the Urban Institute.
The UCSF Department of Physical Therapy and Rehabilitation Science has been active in developing a comprehensive long-term strategy to recruit, retain, and promote a diverse community of scientists, educators, and clinicians. The plan includes marketing and outreach to a wide range of stakeholders, including K-12 preparatory educational programs, undergraduate university advisors and student groups, and research advisors at peer institutions.
The admissions process, meanwhile, continues to evolve toward an increasingly holistic and inclusive process that recognizes the multiple areas of strength an applicant may possess as well as the variety of articles of evidence that support applicants' applications.
"It is vital that we recruit more Black learners in our graduate programs, and improve the pipeline for Black professionals in the rehabilitation workforce," said UCSF Department of Physical Therapy and Rehabilitation Science Vice Chair for Equity Kai Kennedy, PT, DPT.
"This internship program takes one positive step in the right direction." "We were thrilled to welcome our interns this summer and look forward to partnering with Morehouse College in the future," said Dr. Souza. "The diversity of our labs is essential to our research mission of advancing knowledge about human movement and helping all people achieve optimal functioning."
If you'd like to support UCSF's partnership with Morehouse, please consider making a gift to help grow and sustain the program.