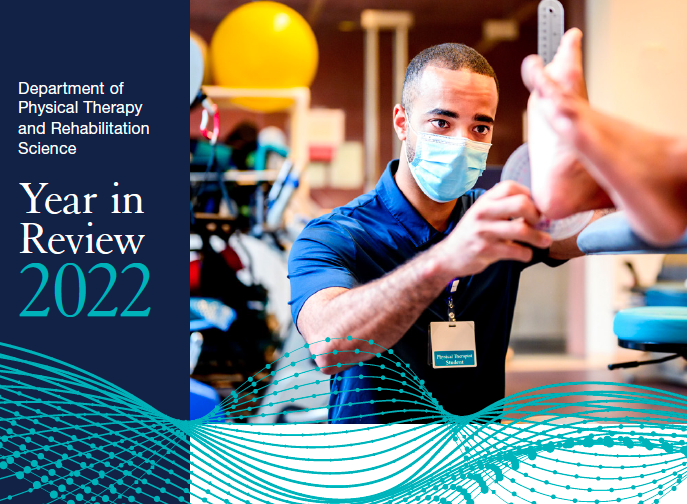 Learn about the various pathways the Department of Physical Therapy and Rehabilitation Science has developed, launched or enhanced to build the physical therapist clinicians, educators, scientists and advocates whose work improves the human experience by optimizing movement and fostering health for all.
Whether we are offering advanced training for neurologic physical therapy, creating a community of pelvic floor therapists equipped to address rising demand, or working with a historically Black college to create a pipeline of future rehabilitation scientists, we are paving pathways for the future.
---
2022 at a glance
Clinical care
Our students, faculty, staff and alumni inspire me every day with their tenacity, courage and passion for serving others.

Amber Fitzsimmons, PT, MS, DPTSc
Chair, UCSF Department of Physical Therapy and Rehabilitation Science
50,323 patient visits to Faculty Practice Sites in 2022
3 Faculty Practice Sites: Lakeshore, Mount Zion, Mission Bay
10 Interprofessional Clinical Sites (such as TBI, ALS, Brachial Neuritis clinics)
Introduction of a new hand therapy service at the Orthopedic Institute
Education
147 DPT students, 4 PhD students, 4 residents
$65,500 distributed to DPT students in scholarships
Reaffirmation of Accreditation for DPT program through April 2032
Start of our new Neurological Physical Therapy Residency in fall 2022
Research
$20 million in total active NIH awards
18 active research grants
Stories to check out
A Path to Partnership: Increased Access to Pelvic Floor Therapy
Reducing Workplace Injuries for UCSF Health Employees
A Path Forward for Value-Based Care
A New Pathway for Neurology Education
Student Debt Drops 12%